Valentine's Day
Flûte Midtown does romance like no one else. BOOK NOW for guaranteed lounge seating and impress your date with fresh flowers and artisan chocolates waiting at the table. If you wish, upgrade to one of our curtained VIP booths (additional minimum spend requirement). Our full menu will be available at regular prices. Space is very limited so reserve early!
Please note these important terms and conditions:
You will be able to specify a reservation time in the booking form.
Please note these important terms and conditions:
$10 of your pre-payment will be non-refundable as of January 31, 2017. The $40 reservation fee is non-refundable as of February 10, 2017. Gift certificates, coupons, dicount vouchers and other pre-purchased packages will not be accepted on February 14th. **We are very sorry, but tickets will NOT be refunded due to weather, travel difficulties or other incidents once the applicable refund window has closed unless Flûte cancels or reschedules.**
Flûte Midtown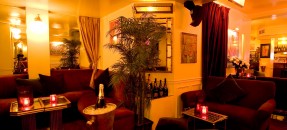 205 West 54th St., NYC 10019
Tel. 212-265-5169
View this location »